Appearance
June is a 10 year old S-class mage Blue Pegasus. She has silver hair (witch turns white when using magic)
Green eyes (witch turn red when using magic) her usual outfit is a white tank top, with a black vest and blue jeans with black and blue tennis shoes. She is very pale.
Personality
She is a very sweet little girl, and although she's only 10 she is very very very very powerful. She has almost uncontrollable light dragon slayer magic. she's pretty shy and quiet. She is very open with her friends and sometimes even competitive.
Interests
She loves music and she really likes to play the guitar. She can also play the piano. She reads several books like, Warriors, the magic tree house, any good picture book, the hunger games, a few manga's.
Exceed
Her exceeds name is @Ruby. Ruby is a calico cat with Crystal blue eyes. RuRu (Ruby), is Very polite, though Equally spoiled.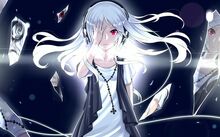 Ad blocker interference detected!
Wikia is a free-to-use site that makes money from advertising. We have a modified experience for viewers using ad blockers

Wikia is not accessible if you've made further modifications. Remove the custom ad blocker rule(s) and the page will load as expected.