" Yesterday's History, Tomorrow's Mystery – Today's a Gift!"

—
Anthea
by
LeAnnie
Anthea Jones
Kanji

杏志亜

Rōmaji

Anzu kokorozashi a

Alias

Elementic, Big disaster

Characteristics

Race

Human

Gender

female

Age

16 1/2

Height

1,63 cm

Weight

50kg

Birthday

May 02

Hair Color

Magenta

Eye Color

Teal

Blood Type

AB

Professional Status

Affiliation

Fairy Tail

Previous Affiliation

/

Guild Mark Location

on her chest

Occupation

S-Class Mage

Previous Occupation

/

Team

Team Natsu

Previous Team

Shadow Gear

Partner(s)

/

Previous Partner(s)

/

Base of Operations

Second Fairy Tail Building, First Fairy Tail Building

Personal Status

Status

Active

Relative(s)

Mother and Father unknown, Even Grin: Adoptivsister

Magic

Magic

Control of elements,

Weapons

/

Debuts

Manga Debut

Chapter: 128 (Fantasia)

Anime Debut

Ep. 48

Portrayal

Japanese Voice

Chiwa Saitou

English Voice

Jennifer Darling

Anthea Jones is a S-Class Mage of Fairy Tail and a Member of Team Natsu. She is one of the strongest, female Fairy Tail Mages. Even Natsu wasn't able to beat her, in her Rage. She is a little bit...clumsy and sometimes awkward. She is a little bit shy, and often afraid of talking to new people,- although she is very kind. She wants to help everyone, but because of her clumsy way, not everyone wants to get her help. The Sorcerer Magazine, use her often as a model.
Appearance
Anthea is a pretty joung woman. Her Hair remind of wild-beeries, and her eyes are blue, what is typically for her home village. She is often wearing white and purple color shades. Her Figur, is normal - good. Her breats are big, but she don't like it, in a fight.
She don't wear any accessory. In the Past, she weard a Hairband, that her sister gave her, but it broke in a fight.
Personality
Anthea is a very kind, optimistic and happy Person. She is a bit shy, sometimes awkward and the most time very clumsy, perhaps that is one reason for her Nickname: "Big disaster." She is clever, strong and loyal. Would never betray, someone of Fairy Tail. Anthea is also very worried protecting her comrades. She has no problem standing up to fight, taking damage and running straight into danger for the sake of her friends and guild. Her favorite color is purple.
Magic and Abilities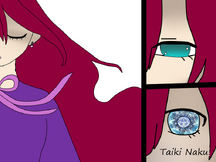 Anthea can use, and control every Element. Her strongest attack is called Elemetic. She combine all Elements to one final attack. She died nearly, and could used it one time.
Unison Raid : A spell which allows two Mages to unite their Magic into a single, combined and stronger attack. This is, apparently, a highly advanced form of Magic, with many priests having wasted their entire lives trying to achieve it, without success.
Equipment
She don't have any Equipment. She don't need any Equipment.
Weaknesses
-clinch
-talk to new people
Timeline
X769 - Anthea was born.
X777 - Anthea activate her magic for the first time, after her sister was killed by a Dark Guild.
X779 - Anthea gets to Fairy Tail 
X783 - Anthea absolve the S-Class test.
X784 - Fights with Natsu, because Nirvana turns her heart into the dark.
X785 - Tenjourima Arc

Trivia
- Anthea is an Old Greek word that basically means Flower
- She is allergic to Tomatoes
- She don't like sushi